Ref:
Date:
Location:
Photographer:
Ref:
Date:
Location:
Photographer:
Paul Kennedy - Glasgow based artist
www.paulkennedyart.com.
Paul Kennedy graduated from Edinburgh College of art. Now in his thirties he is a well-established painter in his native Glasgow. He has exhibited extensively in the U.K and achieved many awards. His work is mainly figurative and city scape however he is very interested in escaping to the scottish coast and the mediterranean to paint. When working away from the studio Paul teaches portraiture painting and painting techniques in secondary schools and does regular painting demonstratioons in and around Glasgow.
Hannah Tofts - Designer / Artist / Illustrator
www.hannahtofts.com
Hannah is passionate about inspiring ways of looking with both adults and children. She's an enthusiastic motivator, teaching with the senses, experiences and lots of colour. Working on location, with what ever she finds whereever she travels. Hannah has worked as a freelance Creative in various mediums since she graduated from the Royal College of Art in 1987. After writing 15 children's art books and teaching BA/ MA Graphic Design she moved to Amsterdam for 14 years as a collage and paint illustrator. She now lives and draws on the side of a sea loch on the west coast of Scotland where she teaches art (to non professionals) while writing the 2nd book in her inspiring series of Ways of Looking.
Karen Beauchamp – Designer / Artist/ Printmaker
www.karenbeauchamp.com
Colour has always been Karen's absolute obsession; she collects pigments from all over the world. She is inspired by the atmosphere, spatial relationships and the ever-changing colours of the landscape, she faces the daily challenge to translate these with paint and linocuts.
She trained as an architect but diversified into design, to run her own wallpaper print and design company for many years, she was the Creative Director of Cole & Son Wallpapers for 10 years before she moved to argyll. She has created collection for many companies including a bejewelled wallpaper collection for Swarovski. Most recently she has been working with Gainsborough Silk Weaving Company, Isidore Leroy in Paris and Lincrusta.
Kevin MacKaveney - Photographer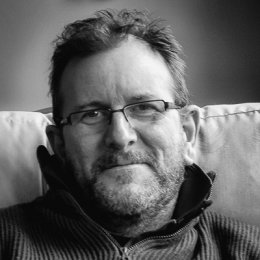 Kevin lives in Tarbert and has had a passion for photography since his early teens adopting The Zone System created by his hero Ansel Adams - ( a system for the maximisation the potential of the image ) this has had a huge influence on his work. He is renowned locally for his stunning images which make maximum use the beautiful natural light of Scotland.
Working in Tarbert at the local high school, he combines his gift of photography as well as graphics and computer technology, participating in local commercial and cultural events where his skills are used to maximum advantage. He recently led photography workshops celebrating local poet George Campbell Hay illustrating his work using images from the surrounding area. Kevin now works entirely digitally also using Lightroom and Photoshop. He will offer half day courses in practical photography and the connected computer programmes.
These courses must be booked in advance.
Guest tutors for the courses
at The Whitehouse Studio are
chosen for their unique and interesting qualities.

Karen will be teaching Design and Print and Colour courses, see 2018 Programme for details.